Mobile Application Development
Comprehensive Mobile Solutions
As an organization dedicated to services in the IT sector, Neev has established itself as a brand of choice in multiple technology centric domains. One of our achievements is being recognized as a key competitor among top mobile app development companies. Our projects with startups and large brands have earned us a distinct reputation, mainly because of our ability to quickly deliver high quality products and the ease with which we work over multiple technologies and platforms to provide innovative solutions tailored to each client.
Mobile application development has become a game changer in today's world. The rate of penetration of smart devices and how it has changed the way people interact with brands, has forced companies to reorganize their focus on development of Mobile applications. Although you come across many mobile app development companies, it is essential that you choose the one that's a right fit to your organization and needs. A responsive web portal that is available across multiple mobile devices? Or Building a native eCommerce based app, the next big gaming application or porting an existing mobile application to a new platform – We can make it happen. Our creative UI/UX design capabilities coupled with the spectrum of technologies and platforms we work on – be it iOS, Android, HTML5 or Node.JS - enables us to cater to a wide range of industries as a mobile application development company.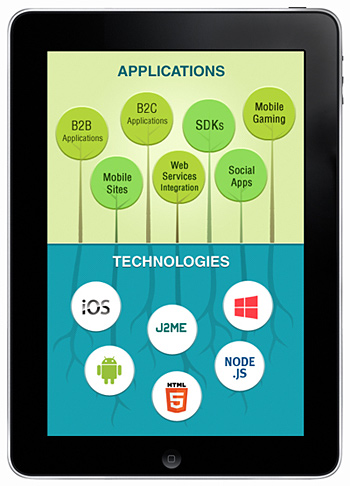 Mobile Applications
A custom mobile application that can be tailored specific to your target consumers and also be able to accommodate the various stakeholder views is a great value add to your brand. Our experience with cross platform mobile application development and UI/UX capabilities are a rare mix, because of the diverse projects we have already worked on for an equally diverse portfolio of clients. These capabilities allow us to create powerful B2B and B2C applications that address the needs of your target audience. As a mobile application development company, although we have worked on Android and iOS platforms extensively using HTML5 as well as Native technologies, our capabilities extend beyond these platforms.
Enterprise Mobility
With a shifting trend where an increasing number of desktop users now prefer a mobile to access internet, the ability of brands to provide web based services on a mobile platform becomes crucial. Not every mobile application development company understands the level of importance to be placed on ensuring security and mitigating large number of threats. We ensure optimal security and preservation of original features to a greater extent while integrating a variety of services onto the mobile platform.
Mobile Software Development Kits (SDKs)
Developing SDKs has been one of our strongholds. We are among the top choices while looking for mobile app development companies that help ISVs create SDKs that are specific to their platform and application in down-stream development.
Porting Solutions
The platforms and formats in the mobile space keep upgrading. Therefore, it is essential that a mobile application development company adapts its skills and competencies to match multiple technologies and platforms. We have developed extensive processes to efficiently port applications across different platforms. The issue of limited compatibility is easily overcome through these solutions. Being a mobile application development company, we have handled several such projects and ensured a hassle free transition for the clients.
Mobile Games
An entertaining game is easily one of the best ways to engage customers. Identified as one among the top mobile app development companies, we have a plethora of ideas on how to develop creative and engaging games. Our gaming apps include puzzles, role play, 3D, racing games and much more.
Mobile Websites
It is now a fact that mobile websites help companies extend their reach significantly. Developing a responsive website has various constraints. One of the most challenging among them is creating a seamless browsing experience for the end user of the mobile website. At Neev, we thrive on creating responsive designs for applications that can adapt to different form factors and give the user a smooth browsing experience. Although many Mobile app development companies claim to provide similar services, technical capability is one of the most critical traits to be evaluated while choosing a vendor.
If you would like a quote for any particular solution or if you have any queries that need clarification, you can contact usand we'll get back to you with the right solution