Process
The Neev Process
Highlights :
Excellence in client engagements and project delivery
Efficient and effective executer and enabler
Internal Quality Management System are ISO 9001:2008 certified and compliant with CMMi Level 3 (evaluation process underway)
Continuous and Continual Process Improvements
Rich experience across the entire software development life cycle
Dedicated QA team to assure Product and Process Quality
Neev :
Believes in Project Management excellence at all Business Units as the foundation for delivery of quality software and services to fulfill the requirements of customers to their satisfaction and delight.
Adopts international standards and best practices on Project Management for excellence, including standards from Project Management Institute, ISO, PRINCE2.
Believes in improvement of the Project Management and Delivery Processes on a continuous basis using Process Approach and Systems Approach, to maintain highest capability to deliver Products, Services and Results to the customer's satisfaction at all times.
Continuously benchmarks its Project Management Practices and uses third party assessment/appraisal services based on CMMI for Development, and ISO 9001:2008 standards in addition to internal assessments to learn and innovate on regular basis for excellence.
Some of the cornerstones of our quality focused approach to software development are :
Test Case Driven testing
Feature/Functionality level QA ownership
Daily/hourly Builds
Smoke tests
Early Stage Integration Testing
Detailed Communication of the outcome of the various QA activities
Impact Analysis of the Bug Fixes
Constant Process Improvements
Quiet Period before the release to the Client
Collaboration with the Client during the User Acceptance Tests
With a rich experience across the entire software development life cycle, Neev has streamlined its process to maximize the efficiency at every stage of an engagement.
QA is involved from an early stage in the project life cycle to ensure a full proof testing. The bugs raised by the testing teams or the clients are constantly tracked and report is shared with the client. A regular meeting is arranged with the clients so as to keep them posted on the project status and expose the risks if any Client is given an access to the source code repository which empowers him to keep a check on the progress.
Neev follows the Scrum based Agile Methodology. In order to implement these practices effectively, Neev has adopted 'Digite Enterprise' for Project Management and Delivery.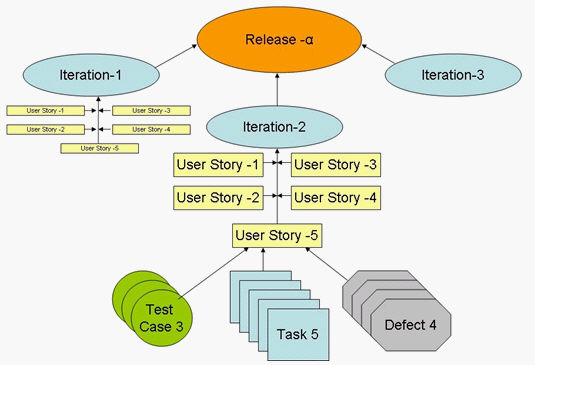 The above representation shows the entities associated with the methodology in 'Digite Enterprise'