Custom Outsourced Product Development
Partnering with Outsourced Product Development companies is one of the easiest ways to collaborative growth. While you outsource your product development, you can focus your resources on other important goals. Outsourced product development companies handle complete development and testing.
Neev Technologies is the preferred outsourced product development partner for product companies and startups worldwide. Over the years, Neev has been providing end-to-end solutions for outsourced product development and custom application development across industry verticals, leveraging emerging technologies on the web, mobile and cloud. Testimonials from our clients prove that we are one of the most sought after Custom Application Development Company.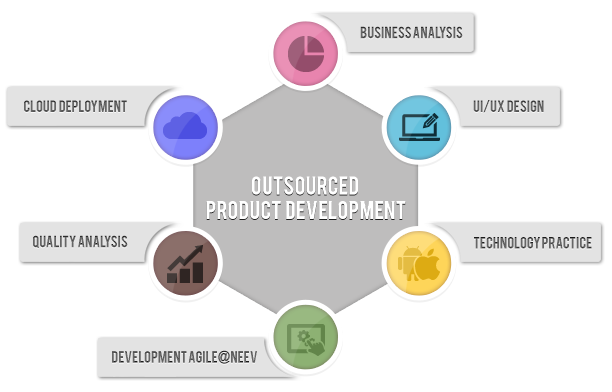 You can also cherry-pick Neev services like UI/UX design, Custom application development, Product Enhancement and Support, Quality Assurance, Cloud Infrastructure Management and Performance Consulting. Many of our clients evaluate several other outsourced product development companies before picking us as their top choice for outsourced product development.
Your product is at the heart of your business and Neev Technologies being a custom application development company with a team of 250+ web, mobile, cloud and UI/UX professionals is the ideal go-to partner for building your product. Our pedigree, mature delivery practices ensure timely deliverables and our Agile processes enable a faster Go-To-Market. Our strategic partnerships with Amazon Web services (AWS), Magento, Rackspace, Hybris, Adobe, Appdynamics and Heroku strengthen our offerings at each stage of the development lifecycle.
We create your IP and we do everything possible to protect it. Apart from physical security, client-prescribed network security and data access rules are enforced in all projects.
Neev recommends continuous customer engagement through an Extended Development Center (EDC) model as opposed to piecemeal project engagements. An EDC comprises of a dedicated team of professionals to serve your long-term custom application development and support needs, while you focus on activities core to your business. Dedicated teams nurture the growth and evolution of your product over multiple years.
One of the main reason to hire a Custom application development company is to ensure you have greater control over the product design and that it fits well with the organization's vision and customer engagement strategies.
Leverage Neev's web, mobile and cloud development expertise to rapidly build your next generation product from the 'concept to lights-on' stage and experience the Neev Edge!
If you would like a quote for any particular solution or if you have any queries that need clarification, you can contact usand we'll get back to you with the right solution