Conversion Strategy
Every business with an online presence today is looking for a conversion strategy that will help them get more leads and sales. A conversion is basically encouraging or leading a visitor to perform an action on the site that you want them to. Anything from filling a form, downloading a whitepaper to buying a product is termed as a conversion. Getting traffic is great but what you do with that traffic is what matters and that's Conversion rate optimization (CRO). Measuring this data and optimizing it, is what Conversion rate is all about.
A good Conversion Strategy is not limited to Ecommerce websites alone. Every site needs conversion in some form or the other. It's only the end goal that varies. We at Neev have always been involved with conversions in some form or the other and hence now offer it has a unique offering.
At the core Customer Strategy involves the following:
Defining the websites' goals and objectives
Analysing and understanding the website, visitors, user behaviour with the help of various analytic tools and A/B testing techniques.
Creating a systematic approach to develop a Conversion Strategy to improve the performance
We work very closely with the client to understand their requirements and chalk out a custom plan. Depending on the requirement, the strategy would involve a series of strategic changes on the website, design, content and user experience. It also involves various online marketing and promotional activities such as email campaigns, social media engagements, etc.
The Process: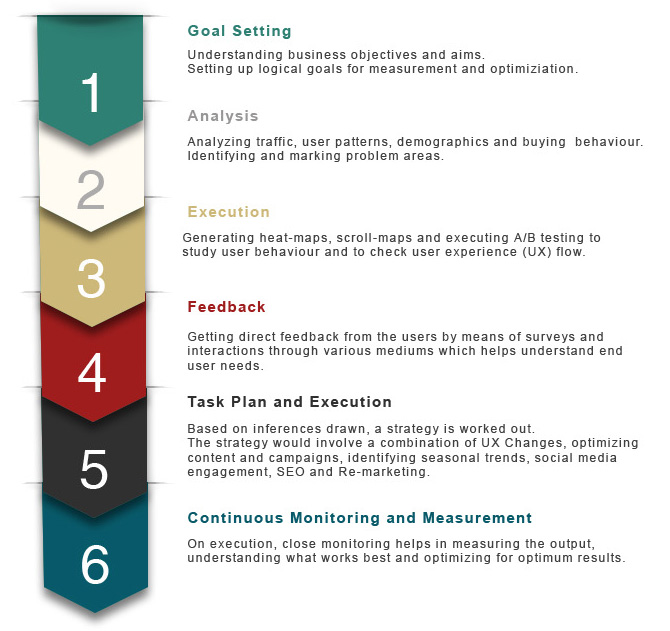 Conversion rate optimization is a continuous process of analysis, testing, diagnosis, feedback and hypothesis. Conversion strategies cannot be blindly based on hunches or best practices and hence is a process where results are seen over a period of time.
Talk to our experts to understand and create a strategy that would work best for your online business.