Business Intelligence
Business intelligence (BI) includes a variety of software applications that are employed to analyze and derive actionable insights from an organization's raw data. As a discipline, it comprises of multiple associated activities like Data Cleansing, Extraction, Transformation and Loading (ETL), Data Mining, Analytical processing, Querying, Reports and Business Dashboards.
BI is a crucial decision support system and assists organizations in decision making, identifying opportunities, and bringing down costs, being agile in reacting to market fluctuations and price optimization. Usually, BI systems cover areas of customer profiling, support, market segmentation research, profitability, statistical analysis, and inventory to name a few. BI can also provide companies more leverage during negotiations by quantifying the value of relationships with suppliers and customers.
BI can be value-adding to companies only if the sanity and accuracy of the data that is fed into the BI system is maintained. Organizations that use BI to uncover flawed business processes are better placed to successfully compete in the marketplace as against companies that use BI merely to monitor current operations.
We, at Neev, strongly believe in the transformational power of Business Intelligence and have over the years built deep expertise in using various BI tools to aid organizational growth. Below are the tools we use:
The software comprises of a suite of Open Source products that cover the full spectrum of Business Intelligence (BI) capabilities. This includes query and reporting, interactive analysis, dashboards, ETL/data integration, data mining, ETL capabilities and a BI platform. All components are modular and can be used individually or as an integrated component.
Pentaho offers an enterprise and a community edition. The enterprise edition contains additional features over the community edition. Add-on products in the form of plugins, frequently enhance Pentaho's core offering. These either come from the company itself or from the burgeoning community of users and enthusiasts.
Neev used Pentaho to enhance the core product of an India-based provider of software systems to utility companies by:
Providing detailed statistics about the status of distribution transformers of utility companies through maps and stacked charts based on various different filters.
Plotting the exact location of a transformer in a map.
Neev thus enabled the client to provide a unified view of the all business processes.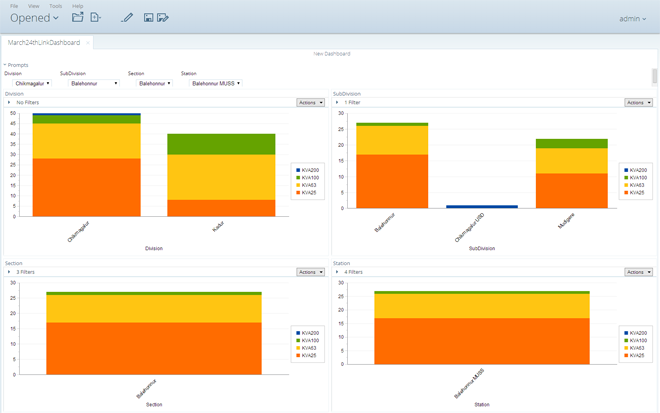 TM1 is an enterprise planning software that can implement collaborative planning, budgeting and forecasting for large enterprises. It can also be used for analytical and reporting applications.
TM1 stores data in the form of multi-dimensional OLAP cubes. TM1 also offers a data orchestration environment to be able to access external data and systems, in addition to capabilities designed for general business planning requirements (e.g. workflow).
Neev can help by analyzing the business requirements of the customer, assessing how Cognos TM1 can help, implementing Cognos TM1 and preparing reports and developing future enhancements. Since TM1 is primarily intended for a very niche market, providing the best support to the customer for a long term is the primary goal of the TM1 team at Neev.
OBIEE is a BI tool from Oracle that makes corporate data more accessible for business users. It does this by providing a common infrastructure for generating and delivering enterprise reports, dashboards, scorecards, OLAP analysis and ad-hoc analysis. A rich visualization, interactive dashboards, large number of animated charting options, an innovative search, and actionable collaboration capabilities make this product highly user-friendly and intuitive. This tool is known to bring down costs using a Web-based service-oriented architecture which integrates with the existing IT infrastructure.
Neev built an advanced view of EssBase hierarchy using OBIEE modelling and created different annual calendar view options for ease of use. Neev also created a custom Launchpad to navigate easily among the various dashboard pages in OBIEE. We developed a color coding system to automatically color code dashboard pages based on their frequency of use. BI Publisher, an in-built tool in OBIEE was used to create quick view reports directly from the source data.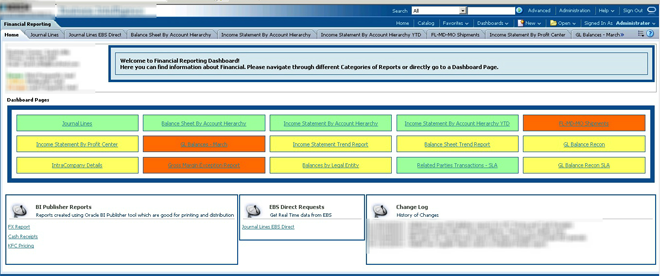 It is an easy-to-use, browser-based data visualization and analytics tool that is accessible to anyone who wants to know more about their data. It is available at a fraction of the cost of traditional business intelligence software.
Tableau has a drag & drop data analysis capabilities. One can access data in a few clicks, then visualize and create interactive dashboard interfaces. Shifting between views is fluid and follows a logical flow of thought, creating rich and beautiful data visualizations.
Oracle Endeca combines both structured and unstructured data to give users complete visibility into their processes and business as a whole. Modules such as EndecaStudio allow rapid configuration of applications and views. EndecaServer facilitates guided navigation and analytics capabilities while others provide comprehensive data integration capabilities. Endeca can handle more data types than other BI tools. It also provides quick ad-hoc access.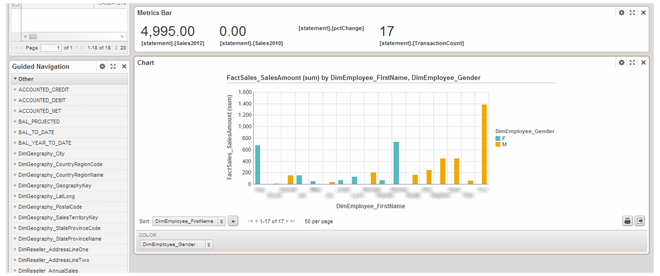 Neev used Endeca on Amazon Web Services (AWS) server instance to help a US-based client create different reports each with a different view like Pivot Table, Charts, etc. in Endeca Studio. Endeca was selected to depict unstructured data lucidly. This enabled the client take informed decisions quickly.
All this and more forms the Neev expertise in Business Intelligence. Backed with experience, Neev can help analyze business requirements, assess how a BI tool can help, implement the solution and generate reports and further enhancements for you.