Independent Testing Services
Our Independent Verification and Validation expertise is derived from hands on experience of building a large number of modern rich internet applications. This experience has helped us develop a very sharp focus on best practices in testing modern day web applications.
We are a dedicated team of extremely talented, customer-focused and diligent individuals with a diversified skill set. With the vision to establish ourselves as a global leader in high-end Independent Verification and Validation Services, we have built expertise around the latest testing tools and technologies.
We have experience in working with multiple software platforms of high complexity. We have worked on complex software systems like Web Content Management System (wCMS), CRM, ERP and high volume and high traffic consumer website.
Our value propositions to the customer are:
Act as an end-to-end QA expert partner to our customers and take up complete ownership for all software quality assurance practices in our engagements.
A holistic product-oriented QA approach in all our service engagements.
Reduced time to market by implementing a predictable and efficient process oriented approach to Software Testing.
Enhanced ROI to customer by reducing the cost of quality
Increased confidence on the software delivered
Our internal QMS are ISO 9001-2008 certified and CMM level 3 compliant. We achieve continuous process and service level improvements through deployment of best-of-breed processes and technologies.
We adopt International Standards and best practices on Project Management including PMI, ISO and Prince-2. Our proven Extended Delivery Center (EDC) Model of delivery provides predictable results. We use a Scrum-based Agile development methodology.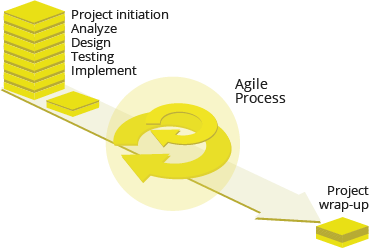 Our Independent Verification and Validation Services service offerings are illustrated in the chart below. The following bullet points sums up our experience in QA:
Full product-life cycle experience including Quality Assurance and Testing. Experience providing QA as an extension of our development services or as an independent project
Extensive experience in performing QA/Testing on a variety of architectures – Web-based, Client-server, Rich-client and Mobile systems, Java, .Net, packaged software
Experience with different types of testing – functional, regression, performance, stress, usability, smoke, SDK, component – using manual and automated approaches
Expertise in Agile testing using Agile Testing tools and processes. Well-defined QA processes for different development methodologies – RUP, Agile, Waterfall, etc
Deep experience in deploying a "tool-centric" approach to Quality Approach using off-the-shelf tools for test management, performance/stress/intrusion testing, build management and testing automation We have also built 'custom' tools/frameworks for test data generation, unit testing, API/SDK testing, test metrics collection, etc.