Management Team
Saurabh Chandra / Co-Founder & CEO
As Chief Executive Officer of Neev, Saurabh Chandra is well entrenched in the creative and ideation process of all projects undertaken by Neev. Before Neev, Saurabh played a key role in the development and implementation of the web strategy and creating a flexible information architecture at Talisma. His second job took him to Pi Corp (now Decho, an EMC Company), where he created new ways for people to interact with personal information. An entrepreneur at heart, with an eye for new technologies, Saurabh is championing the delivery of the Neev mission and vision. Saurabh is an alumnus of IT-BHU.
View his profile on Linkedin


Santosh Shetty / Co-Founder & Director
Santosh is responsible for bringing in new business as well as spearheading product strategy at Neev. He works on key engagements, with partners and drives alliances. Before Neev, Santosh played a key role in the testing and release of CRM products at Talisma after which he took up the a key role in Testing and Release Management of a p2p Web 2.0 product aimed at managing personal information on the desktop at Pi Corp(now Decho, an EMC Company). Santosh is an IIM-B alumnus.
View his profile on Linkedin


Sanjeev Goel / Chief Operating Officer
Sanjeev is the Chief Operating Officer at Neev. He constantly endeavors to anticipate customer needs, offer new services and develop new competencies at Neev. He is responsible for improving customer satisfaction, enhancing service delivery capability, keeping workforce motivated and improving financial performance. He has 20+ years of experience In IT Services delivery at various organizations such as Infosys Technologies, Tata Consultancy Services. He also co-founded Drapsa Technologies which developed solutions for e-Retail. Sanjeev is an alumnus of IIT-Roorkee.
View his profile on Linkedin


Prasad Kavikondala / BU Head
Prasad is the Business Unit Head at Neev and is responsible for professional services, customer engagement and identifying new business areas. He has more than 12 Years of professional experience in the areas of Software Development, Project Management, Service Delivery, CRM and Sales Support. Prior to joining Neev, he was working as General Manager at e4e Business Solutions Pvt Ltd for their Application Development & Integration division. Prasad is an alumnus of Acharya N.G. Ranga Agricultural University.
View his profile on Linkedin

Vinci Rufus / Vice President & Head eCommerce Practice
Vinci has over 12 years of experience in building eCommerce and Rich Internet Applications and has helped build some of the leading eCommerce websites in India. Besides eCommerce, he also has a passion for Usability, Human Computer Interaction and Data Visualization. He enjoys conducting workshops on Usability and HTML5 and has been a speaker at various events at NID, Microsoft Web Camps etc. Vinci is also the author of the book 'AngularJS Web application development Blueprints'. He is an alumnus of Symbiosis, Pune.
View his profile on Linkedin

RKVS Raman / Technology Evangelist
As Technology Evangelist at Neev, Raman is responsible for spotting the latest and greatest technologies and bringing them into practice at Neev. An innovator at heart, he has to his credit many technological innovations at Neev. He has successfully spearheaded several initiatives on the technology front like the Neev Hackathon among others. Raman comes with a rich industry experience of over 15 years. With over 18 publications and a patent to date, his areas of interest include Open Source Software, Semantic Web and Human-Computer interaction. Raman is an alumnus of National Centre for Software Technology (NCST), Bangalore.
View his profile on Linkedin


Santosh Madyalkar/ Business Unit Head – Mobility and Content Management
Santosh heads the mobility and content management practices at Neev. An innovator at heart, he spearheads many innovations at Neev and drives teams to put in their best. Previously, he has worked at Dell and iGate Global Solutions across roles like software analyst and senior project manager. Santosh is an alumnus of Gulbarga University and Wigan and Leigh College, UK.
View his profile on Linkedin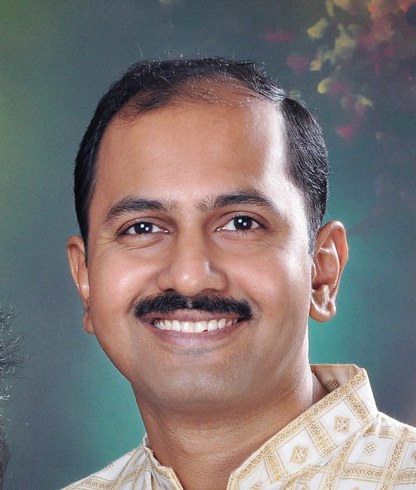 Sumit Chowdhury / Head of Marketing and New Business Development
Sumit heads Marketing and New Business development at Neev. He is responsible for spreading the 'Neev' word far and wide and transforming businesses with Neev's technology solutions. He has had a varied career in organizations such as Steel Authority of India, Infosys and Honeywell across multiple functions like Marketing, Presales, Software Project Management and Program Management. Sumit also founded two entrepreneurial ventures – one in the Social Media space and another in the private publishing space. He is a biographer, a marathon runner and an avid traveler. He has penned a number of biographies including 'The CRISIL Story' published by Westland Books. Sumit is an alumnus of NIT Durgapur and IIM Bangalore.
View his profile on Linkedin