Mobile Application Development: Design View with IOS 5 Storyboards
Contributed by admin on 21 Mar 2013
Start with "Storyboard" option checked when creating the project, which means you can find a single  MainStoryboard_iPhone.storyboard file somewhere in the folder group located on the left side of the window. Click on the file to select it and open the view.

A new sidebar should appear directly to the right of the folder group. This is called the Document Outline and it's a sort of quick preview method for checking all of the available views in this storyboard.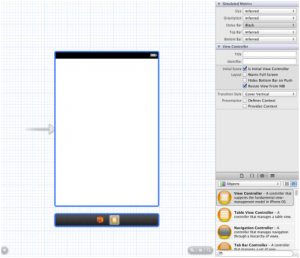 Now next step is to add a few page elements into our view controller. Hew you need two different elements: a Navigation Bar and a Tab Bar. Before we grab them, access to the Attributes Inspector (View > Utilities > Show Attributes Inspector) on the right side of the window, then look for the Status Bar label. By default it's set to Inferred which uses the standard iPhone status color, but you can also choose Black or Translucent Black if your app design fits the color better.
\
Neevtech is a leading outsourced application development company from Bangalore, India. To know more about our outsourced mobile application development capabilities, point your cursor at www.neevtech.com or mail to us at [email protected]
Visit us at Neevtech.com to know more about our offerings.
Tags: Application Development, iOS development, Offshore Application Development, Outsourced Mobile Application Development and testing in Bangalore, \