Rising Technologies:jQuery Mobile
admin wrote this on 20 Feb 2012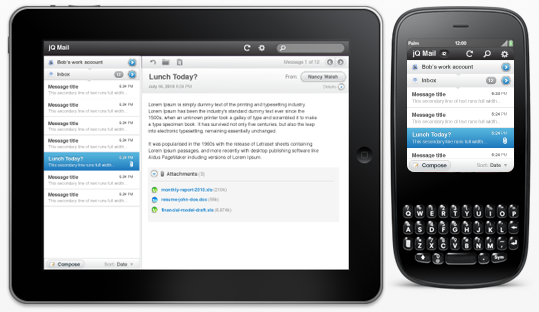 jQuery has become practically synonymous with JavaScript, in large part because of its extensibility, ease of use and strong project leadership. With the goal of being a touch-optimized web framework for tablets and smartphones, jQuery Mobile is one of the most visible projects aiming to take cross-platform, cross-device web development for mobile browsers to the next level. As more and more developers consider building apps with HTML5, a solid mobile JavaScript framework becomes more and more enticing. jQuery Mobile has the pedigree to become the de facto JavaScript framework for mobile.
jQuery mobile framework takes the "write less, do more" mantra to the next level: Instead of writing unique apps for each mobile device or OS, the jQuery mobile framework allows you to design a single highly branded and customized web application that will work on all popular smartphone and tablet platforms.
Neevtech is a leading Mobile Application Development Company from Bangalore, India.To know more about us log on to www.neevtech.com .
Visit us at Neevtech.com to know more about our offerings.